Mag1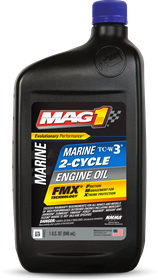 MAG 1® Marine TC-W3 2-Cycle
Motorcycles, Scooters, Marine and Powersports 2-Cycle, Small Engine, Motorcycle and Marine Products
MAG 1® TC-W3 2-Cycle Oil is a premium, high-quality motor oil formulated for use in outboard motors, motorcycles, snowmobiles, chain saws, garden equipment, and other fuel-lubricated or oil-injected 2-cycle engines. Formulated to prevent ring sticking, reduce spark plug fouling, keep engine clean, prevent scuffing and work with injector and fuel-lubricated engines.
Follow engine manufacturers' recommendations to determine correct oil/fuel ratio. Add oil to fuel, mix thoroughly.
Meets API TC and JASO FB specifications.
Licensed by NMMA. 
Protection for Today's 2-Cycle Engines
Small engines have evolved dramatically, requiring highly specialized fluids for unique applications. One brand has evolved right alongside – MAG 1®. Only the most advanced oil meets the difficult challenges of effectively balancing performance, strength and durability.
Featuring FMX® Technology ™ is designed to provide unsurpassed protection.
Delivers superior anti-friction performance for your outboard engines.

Provides a strong oil film to prevent metal-to-metal contact between rotating parts to prevent wear.

Resists thickening due to high operating temperatures.    

Industry/OEM Specifications
| | |
| --- | --- |
| NMMA TCW-3 | Approved |
| JASO FB, API TC | Meets Requirements |
| Mercury, Johnson, Yamaha, Evinrude, Force, Mariner, Suzuki, Nissan | Meets requirements where TCW-3 oils are required |
Typical Properties
| | | |
| --- | --- | --- |
| Color | ASTM D1500 | Blue |
| Gravity, °API | ASTM D287 | 32.20 |
| Nitrogen, wt. % | ASTM D4629 | 0.47 |
| Pour Point °C (°F) | ASTM D5950 | -47°C (-53°F) |
| Specific Gravity @ 60°F (15.6°C) | ASTM D4052 | 0.8644 |
| Sulfated Ash, wt. % | ASTM D874 | <0.001 |
| Sulfur, wt. % | ASTM D4951 | 0.07 |
| TBN, mgKOH/g | ASTM D2896 | 5 |
| Total Acid Number, mgKOH/g | ASTM D664 | 0.9 |
| Total Metals (Ca, Mg, Zn), wt. % | | 0.0000 |
| Viscosity @ 100°C cSt | ASTM D445 | 6.15 |
| Viscosity @ 40°C cSt | ASTM D445 | 30.07 |
| Viscosity Index | ASTM D2270 | 159 |
Container/Bulk Availability
| | |
| --- | --- |
| 55 Gallon Drum | Product Number - 00614 |
| 3/1 Gallon | Product Number - 60136 |
| 6/1 Quart | Product Number - 00609 |
| 12/16oz | Product Number - 60140 |
Available in Bulk
Information accurate as of October 10, 2023