Mag1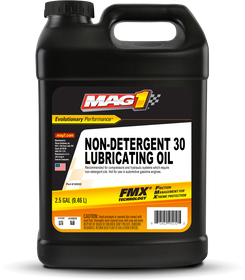 MAG 1® Non-Detergent 30 Lubricating Oil
Non-Detergent Lubricating Oil Industrial Lubricants and Greases
Featuring MAG 1® with FMX® Technology – Friction Management for Xtreme protection™. MAG 1® provides unsurpassed protection and performance.
MAG 1® Non-Detergent Lubricating Oils are recommended for compressors and hydraulic systems which require non-detergent oils. Non-detergent oils are effective in the lubrication of bearings and chains in non-critical once-through systems. Not for use in automotive gasoline engines.
Powerful Anti-Friction, Anti-Wear Chemistry 
MAG 1® provides outstanding control of friction and wear. Advanced molecules bond together to create a wear-resistant shield that works to build barriers that reduce friction and wear.
Evolutionary Performance™
OEMs continue to evolve equipment designs and operating conditions are becoming more severe. One brand has evolved right alongside today's equipment – MAG 1®. Only the most advanced driveline gear oils meet the difficult challenges of effectively balancing performance, strength and durability.
Typical Properties
| | | |
| --- | --- | --- |
| Color | ASTM D1500 | 3.0 |
| Flash Point °C | ASTM D92 | 230 |
| Flash Point °F | ASTM D92 | 446 |
| Gravity, °API | ASTM D287 | 30.58 |
| Specific Gravity @ 60°F (15.6°C) | ASTM D4052 | 0.873 |
| Viscosity @ 100°C cSt | ASTM D445 | 10.13 |
| Viscosity @ 40°C cSt | ASTM D445 | 79.17 |
| Viscosity Index | ASTM D2270 | 109 |
Container/Bulk Availability
| | |
| --- | --- |
| 55 Gallon Drum | Product Number - 62859 |
| 2/2.5 Gallon | Product Number - 00232 |
| 6/1 Quart | Product Number - 68761 |
Available in Bulk
Information accurate as of October 10, 2021