Mag1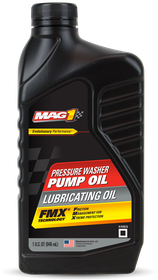 MAG 1® Pressure Washer Pump Oil
Small Engine Lubricants 2-Cycle, Small Engine, Motorcycle and Marine Products
Featuring FMX® Technology that provides unsurpassed protection and performance.
MAG 1® Pressure Washer Pump Oil is a multi-purpose pump lubricant that resists foaming and aeration. Protects against rust and oxidation. 

Evolutionary Performance™
OEMs continue to evolve engine and vehicle systems. One brand has evolved right alongside – MAG 1®. Only the most advanced automotive fluids meet the difficult challenges of effectively balancing performance, strength and durability.
Powerful Chemistry and Performance
MAG 1® helps improve your vehicle's longevity and performance.
Typical Properties
| | | |
| --- | --- | --- |
| Color | ASTM D1500 | 3.0 |
| Flash Point °C | ASTM D92 | 230 |
| Flash Point °F | ASTM D92 | 446 |
| Gravity, °API | ASTM D287 | 30.58 |
| Specific Gravity @ 60°F (15.6°C) | ASTM D4052 | 0.873 |
| Viscosity @ 100°C cSt | ASTM D445 | 10.13 |
| Viscosity @ 40°C cSt | ASTM D445 | 79.17 |
| Viscosity Index | ASTM D2270 | 109 |
Container/Bulk Availability
| | |
| --- | --- |
| 6/qt | Product Number - 60694 |
Information accurate as of October 10, 2023