Mag1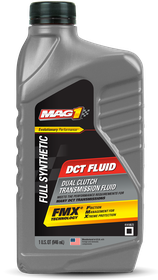 MAG 1® Full Synthetic Dual Clutch Transmission Fluid
Passenger Car Transmission Products Automatic Transmission Products
MAG 1 Full Synthetic Dual Clutch Transmission Fluid featuring FMX® Technology – Friction Management for Xtreme protection™ is for service fill applications on a wide range of European, Asian and American vehicles equipped with wet Dual Clutch Transmission. MAG 1 DCT fluid has demonstrated robust performance in both industry/OEM testing as well as extensive field testing.
Protection for Today's Automatic Transmission Designs
Automotive transmissions have evolved dramatically, requiring highly specialized fluids for unique applications. One brand has evolved right alongside – MAG 1®. Only the most advanced transmission fluids meet the difficult challenges of effectively balancing performance, strength and durability. 
Outstanding torque capacity retention provides smooth shift feel.

Exceptional copper corrosion protection prevents premature wear.

Excellent oxidation control for long fluid life.

Seal compatibility for better leak prevention.

Industry/OEM Specifications
| | |
| --- | --- |
| BMW 6-speed DCT | Suitable for use |
| BMW Drivelogic 7-speed (Getrag)/DCTF-1 | Suitable for use |
| BMW MTF LT-5 | Suitable for use |
| Borg Warner | Suitable for use |
| Bugatti Veyron | Suitable for use |
| Castrol BOT 341 | Suitable for use |
| Castrol BOT 450 | Suitable for use |
| Castrol Transmax Dual | Suitable for use |
| Chrysler 68044345 EA & GA | Suitable for use |
| Chrysler Powershift 6-speed (Getrag) | Suitable for use |
| DCT-1 | Suitable for use |
| Ferrari 7-speed (Getrag)/TE DCT-3 | Suitable for use |
| Ford/Nissan Powershift 6-speed (GFT) / Ford WSS-M2C936A | Suitable for use |
| Ford WSS-M2C200-D2/ XT-11-QDC | Suitable for use |
| Mitsubishi TC-SST 6-speed (GFT) / MZ320065 DiaQueen SSTF-1 | Suitable for use |
| PDK transmissieolie voor ZF (DCT Transmission Oil for ZF) | Suitable for use |
| Pentosin FFL 2, 3, 4 | Suitable for use |
| Peugeot/Citroen DCS 6-speed (GFT)/9734.S2 | Suitable for use |
| Renault EDC 6-speed (Getrag) | Suitable for use |
| Shell TF DCT-F3 | Suitable for use |
| Volvo Powershift 6-speed (GFT)/1161838/1161839 | Suitable for use |
| VW (Audi, Seat, Skoda) 6-speed | Suitable for use |
| VW/Audi TL 521 82 (spec) / G 052 182 A2 or A6 (fluid) | Suitable for use |
| VW/Audi TL 52529 (spec) / G 052 529 A2 or A6 (fluid) | Suitable for use |
| ZF/Porsche Oil #999.917.080.00 | Suitable for use |
Typical Properties
| | | |
| --- | --- | --- |
| Brookfield Viscosity at -40°C, cP | ASTM D2983 | 16,826 |
| Color | ASTM D1500 | Amber |
| Gravity, °API | ASTM D287 | 34.5 |
| Pour Point °C (°F) | ASTM D5950 | -51°C (-60°F) |
| Specific Gravity @ 60°F (15.6°C) | ASTM D4052 | 0.8524 |
| Viscosity @ 100°C cSt | ASTM D445 | 7.038 |
| Viscosity @ 40°C cSt | ASTM D445 | 33.57 |
| Viscosity Index | ASTM D2270 | 178 |
Container/Bulk Availability
| | |
| --- | --- |
| 6/1 Quart | Product Number - 68611 |
Information accurate as of May 5, 2022