Mag1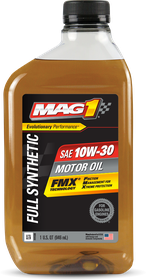 MAG 1® Full Synthetic 10W-30 Motor Oil
Full Synthetic Motor Oil Passenger Car Motor Oil
MAG 1® Full Synthetic 10W-30 Motor Oil is our purest and most advanced formulation for our best fuel mileage. It delivers unsurpassed protection and performance, including the following benefits:
MAG 1 - engineered to maximize horsepower and acceleration.
Longer and better engine protection than conventional oils due to strong and uniform synthetic base oils and advanced molecules that provide a strong film barrier to control friction, resist wear and keep metal surfaces from coming into contact.
Created for extreme hot and cold driving conditions: stop and go, frequent short trips, heavy loads and dusty conditions.
Meets and exceeds API SP and ILSAC GF-5 requirements.
Formulated for Today's Engine Designs
OEMs continue to evolve engine designs that demand more from motor oil. One brand has evolved right alongside – MAG 1®. It provides unsurpassed protection.
Unsurpassed Protection, Even in the Lightest Viscosity 
MAG 1® with FMX® Technology provides unsurpassed protection. Our advanced oil chemistry actually improves oil properties through time, retaining viscosity, friction and anti-wear benefits, in spite of severe engine temperatures. 
Full Synthetic Motor Oil featuring Evolutionary Performance™
MAG 1® with FMX® Technology – Friction Management for Xtreme protection™ provides these benefits:
Performance
Controls friction and wear more than 29% better than the latest API requirements.1
Engineered to handle the most extreme conditions.
100% pure synthetic oils. Contains uniform molecules that provide the best, longest-lasting engine protection and performance.
Strength
Provides a strong oil film to avoid metal-to-metal contact, even under extreme stress.
Unsurpassed wear protection. Advanced molecules bond together to avoid metal-to-metal contact of rotating engine parts.
Enhanced friction reduction. MAG 1 oils react to heat to produce a critical friction-reducing barrier that protects metal surfaces. 2
Durability
Stands up to the heat and shearing so it extends oil life.
Stands up to the heat and shearing so it extends oil life.

1Based on Sequence IV Wear test.
2To measure friction reduction benefits, engineers used the ball-on-disk traction test.
Applications
Gasoline-fueled and flex-fuel passenger cars, light trucks and sport utility vehicles, especially when operating under severe conditions.
Formulated to protect turbochargers and emission control system catalysts.
Formulated for use in vehicles operating on ethanol-containing fuels up to E85.
Industry/OEM Specifications
| | |
| --- | --- |
| API SP | Approved |
| ILSAC GF-5 | Approved |
| API SJ, SH, SG, SF | Meets Requirements |
| API SL | Meets Requirements |
| API SM | Meets Requirements |
| API SN | Meets Requirements |
| API SN Plus | Meets Requirements |
| Chrysler MS-6395 | Meets Requirements |
| GM 4718M | Meets Requirements |
| GM 6094M | Meets Requirements |
| ILSAC GF-4 | Meets Requirements |
Typical Properties
| | | |
| --- | --- | --- |
| Boron, wt. % | ASTM D5185 | 0.007 |
| Calcium, wt. % | ASTM D5185 | 0.119 |
| Cold Cranking Simulator at (°C), cP | ASTM D5293 | 4000 (-25) |
| Color | ASTM D1500 | 2.5 |
| Flash Point °C | ASTM D92 | 225 |
| Flash Point °F | ASTM D92 | 437 |
| Foam Seq. III (Tendency/Stability), mL | ASTM D892 (Opt. A) | 0/0 |
| Foam Seq. II (Tendency/Stability), mL | ASTM D892 (Opt. A) | 0/0 |
| Foam Seq. I (Tendency/Stability), mL | ASTM D892 (Opt. A) | 0/0 |
| Gravity, °API | ASTM D287 | 34.91 |
| High Temperature Foaming, static foam | ASTM D6082 (Opt A) | 20/0 |
| High Temperature / High Shear Vis at 150°C, cP | ASTM D5481 | 3.18 |
| Magnesium, wt. % | ASTM D5185 | 0.038 |
| Molybdenum, wt. % | ASTM D5185 | 0.004 |
| Nitrogen, wt. % | ASTM D4629 | 0.081 |
| Noack Volatility, % loss | ASTM D6375 | 5.2 |
| Phosphorus, wt. % | ASTM D5185 | 0.064 |
| Pour Point °C (°F) | ASTM D5950 | -42°C (-44°F) |
| Pumping Viscosity at (°C), cP | ASTM D4684 | 21,300(-30) |
| Shear Stability, Final Viscosity in cSt | ASTM D6278 | 9.32 |
| Specific Gravity @ 60°F (15.6°C) | ASTM D4052 | 0.8503 |
| Sulfated Ash, wt. % | ASTM D874 | 0.712 |
| Sulfur, wt. % | ASTM D4951 | 0.235 |
| TBN, mgKOH/g | ASTM D2896 | 7.0 |
| Viscosity @ 100°C cSt | ASTM D445 | 10.28 |
| Viscosity @ 40°C cSt | ASTM D445 | 62.86 |
| Viscosity Index | ASTM D2270 | 151 |
| Zinc, wt. % | ASTM D5185 | 0.07 |
Container/Bulk Availability
| | |
| --- | --- |
| 55 Gallon Drum | Product Number - 64883 |
| 6 Gallon Enviro Box® | Product Number - 69880 |
| 3/5 Quart | Product Number - 64194 |
| 6/1 Quart | Product Number - 70165 |
| 6/1 Quart | Product Number - 61788 |
Available in Bulk
Information accurate as of October 10, 2023