Mag1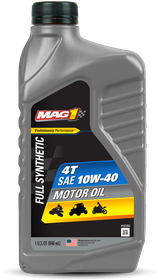 MAG 1® Full Synthetic 4T 10W-40 Motor Oil
Motorcycles, Scooters, Marine and Powersports 2-Cycle, Small Engine, Motorcycle and Marine Products
MAG 1® Full Synthetic 10W-40 4T Motor Oil is specially engineered for small four stroke engines used in recreational powersports. Benefits include:
Formulated with a 100% full synthetic base stock
Special friction modifiers for wet-clutch performance.
JASO MA2 Licensed 
Recommended for snowmobiles, ATVs, personal watercraft and motorcycles that call for a 10W-40 that meets the requirements of JASO MA, JASO MA 2, or API SL.
Protection for Today's Four Stroke Engines 
Small engines have evolved dramatically, requiring highly specialized fluids for unique applications. One brand has evolved right alongside – MAG 1®. Only the most advanced oil meets the difficult challenges of effectively balancing performance, strength and durability.
Featuring FMX® Technology ™ is designed to provide unsurpassed protection.
Delivers superior anti-friction performance for your motorcycle or scooter.

Provides a strong oil film to prevent metal-to-metal contact between rotating parts to prevent wear.

Resists thickening due to high operating temperatures.    

Industry/OEM Specifications
| | |
| --- | --- |
| JASO MA2 | Approved |
| API SL | Meets Requirements |
| JASO MA, ISO-L-EMA2 | Meets Requirements |
Typical Properties
| | | |
| --- | --- | --- |
| Calcium, wt. % | ASTM D5185 | 0.173 |
| Cold Cranking Simulator at (°C), cP | ASTM D5293 | 6169 (-25) |
| Color | ASTM D1500 | 2.5 |
| Flash Point °C | ASTM D92 | 230 |
| Flash Point °F | ASTM D92 | 446 |
| Gravity, °API | ASTM D287 | 33.92 |
| Molybdenum, wt. % | ASTM D5185 | 0.0044 |
| Nitrogen, wt. % | ASTM D4629 | 0.0079 |
| Phosphorus, wt. % | ASTM D5185 | 0.11 |
| Specific Gravity @ 60°F (15.6°C) | ASTM D4052 | 0.8554 |
| Viscosity @ 100°C cSt | ASTM D445 | 14.25 |
| Viscosity @ 40°C cSt | ASTM D445 | 95.98 |
| Viscosity Index | ASTM D2270 | 153 |
| Zinc, wt. % | ASTM D5185 | 0.12 |
Container/Bulk Availability
| | |
| --- | --- |
| 55 Gallon Drum | Product Number - 69261 |
| 6/1 Quart | Product Number - 69259 |
Available in Bulk
Information accurate as of October 10, 2023